Transformative technology platform was the need of the hour to address fragmented processes managed primarily using email by a major Federal Government Agency . Legacy business systems being used were susceptible to mismanagement of PII leading to security concerns. Service Request submission, monitoring, turnaround time measurement and reporting was time consuming due to missing process consistency. Lack of one-stop shop intranet application to access various information resources had negative impact on productivity.
To better achieve this goal, the Agency realized the need of implementing a single platform for self service and collaboration to enhance their current employee experience. By doing so the Agency could achieve its goal of improving efficiency with the objective of monitoring case resolutions in the future, improving employee service management for its existing 4,500+ employees and also the implementation will facilitate in retiring legacy systems while advancing the application usage to areas like Peer Recognition, Audience Targeting, and Robust Analytical Integrations.
Agility Technologies was hired to assess the viability of Salesforce as a suitable platform for this modernization effort and to develop a One Stop Shop solution for the customer.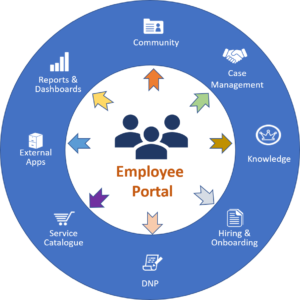 Through several in-depth working sessions and ongoing daily meetings with key members of the technology team, Agility documented detailed requirements, underlying software and infrastructure, various internal and external users and data sources, and general business processes associated with both the current- and future-state platforms.
To deliver on these objectives, Agility implemented Salesforce Community, Case Management, knowledge to provide on all – encompassing solution for Employee requirements. Salesforce Lightning Process Builder and Flow was extensively used to configure complex workflows involving multiple team member handoffs. Wide range of processes (HR, Finance, Procurement)
configured/developed using permission sets and managed sharing to make data available based on stringent security policies. More than 45 workflows from Total 450 workflows completed in Phase 1 of the project.
In conjunction with this hands-on training, Agility also helped the agency work through revised staffing models that aligned with a future Salesforce-based environment. These exercises helped the agency further refine immediate as well as long-term budget requirements.
Value of Portal Project :
To create a self – service platform to promote employee participation and collaboration.
Salesforce community platform to provide current and relevant information to employee groups.
Gateway to multiple applications with provision to request
services from the same platform.
Our Success story lies in transforming business processes for 4500+ employees utilizing the portal and automating 30+ workflows in a user friendly Salesforce application that promotes employee participation and collaboration.